Energy: Natural Gas & Oil Field

Industry Segment Brochure
Megadyne offers a number of products and accessory items supporting the oil and gas industry. They are found on applications from drilling and extraction to transport and delivery. Megadyne belts and Jason by Megadyne hose provide an important function ensuring efficient, reliable operation whether transmitting power or moving product.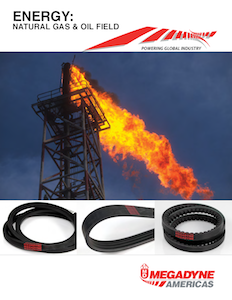 Learn more about our products used in the

Energy Natural Gas & Oil Field Industry.
From land-based to offshore oil exploration this brochure specifically identifies those key pieces of process and auxiliary equipment where our belts are most commonly used. Natural Gas & Oilfield Products by Megadyne Americas include the following applications
Drilling

Extraction

Refining