Food Contact

Product Brochure
Blue Megalinear and Megapower FC (food contact) belts are made with a urethane compound designed for use in food processing and sterile conveying applications such as packaging.
Megalinear, made with a Kevlar™ reinforcement is available with a smooth convey side or in a variety of convey side impressions to assist in product handing. Megapower FC, a molded endless timing belt reinforced with stainless steel cords is designed for use both power transmission environments as well as conveying. The urethane chemistry used to produce these belts makes them ideal for use in oily and humid environment's where belt washdown is common.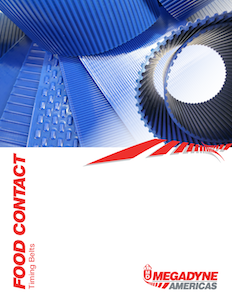 Learn more about our Megapower and Megalinear FC Timing Belts.
Key technical features of the Megapower FC include:
Standard Compound: Thermoset PU88 ShA dark blue (RAL 5002)
Elastomer meets EU Regulations 1935/2004/EU 10/2011 and EU 174/2015
Cords: Z twist stainless steel AISI 304
Working temperature -25°C/+80°C (-13°F to +176°F)
Backside cleats/profiles are possible with special tooling
Key technical features of the Megalinear FC include:
Excellent resistance to oils, humidity, wet environments and belt wash-down procedures
Homogenous construction eliminates chance of backside structure delamination
No-Gap construction minimizes contamination possibility
Standard compound: dark blue Polyurethane thermoplastic 85 ShA (70 ShA, 90 ShA available upon request. Consult Megadyne.)
Standard cords: S and Z twist Kevlar
Working temperature -25°C/+80°C (-13°F/+186°F)