Using Custom Belt Modifications to Optimize Performance
By changing the construction, material, or finish of the belt, manufacturers can better meet their unique product handling requirements.
Fill out the form on the right to complete your download of the custom belt modification eBook.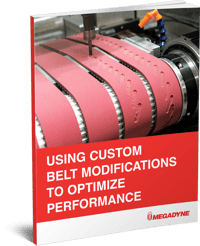 How to optimize performance with Custom Belt Modifications.
For synchronous or non-synchronous product handling applications, modifications can make a difference in conveying. In Belt Corp's resource, Using Custom Belt Modifications to optimize performance, you can learn about the modifications available and access:

Differences in belt modifications
Diagrams of each option
Belt modifications in action with a case study